White House press secretary Jen Psaki admitted that Vice President Kamala Harris has been elevated to nearly an equal role to President Biden by the White House's rebranding of the "Biden" administration to "Biden-Harris" in communications.
"I would take from it that Vice President Harris is an important partner, she's the first in the room and the last in the room on most occasions if she's in town," Psaki said, adding that it was a "reflection of the important role she will play moving forward."
The new "Biden-Harris" wording has been included on the White House Twitter channel, WhiteHouse.gov and other official communications.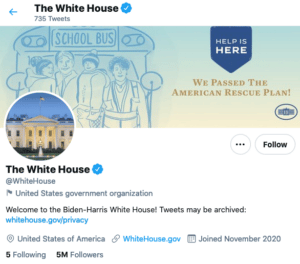 Vice President Kamala Harris has taken on numerous duties traditionally associated to the president. Recent examples include taking calls with international heads of state and swearing in cabinet members.
President Joe Biden also recently assigned Harris as the leader to address the immigration surge on the nation's southern border.
Some have viewed the vice president's leadership prominence a requirement due to Biden's health issues. The president has failed to travel frequently or hold regular press conferences.
Other suggest the leadership elevation may serve as preparation for a future Harris presidential run in 2024. Biden has noted he expects to run for reelection.
The unprecedented billing has given Harris notable leadership opportunities. As the nation's first female vice president, her visibility has served as an important part of the Democrat Party's plans to solidify female voters.
Psaki's admission comes as no surprise to most Americans. The only question is where the elevated status for Harris will lead in the days ahead.