President Donald Trump and the White House must be ecstatic to see how America is responding to his leadership through the pandemic of the novel coronavirus.
According to RealClearPolitic's average of all recorded polls, President Trump is registering a 47 percent approval rating. That is his highest rating thus far.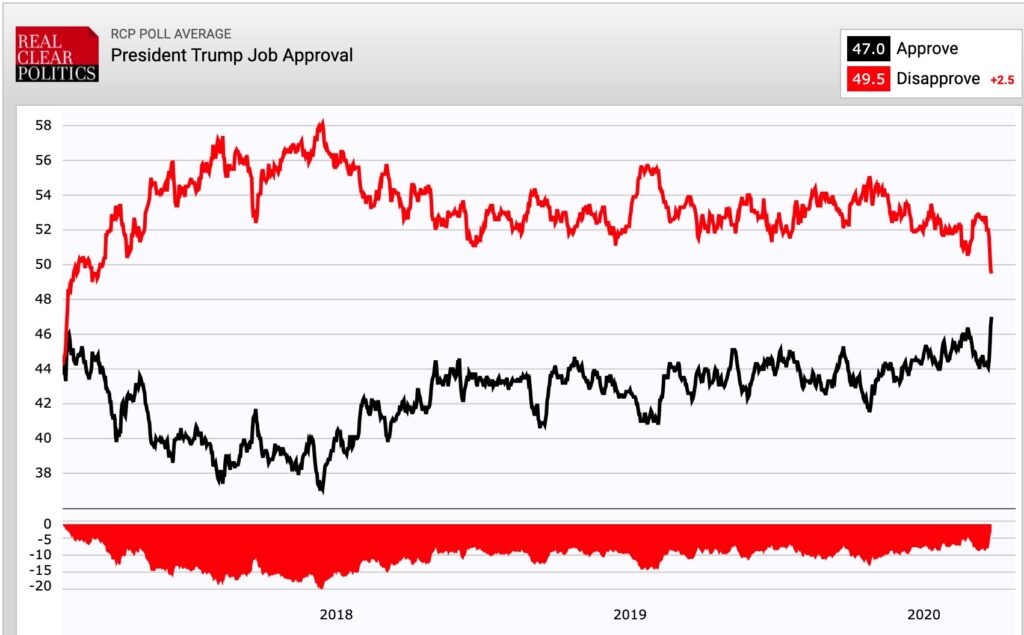 But for Trump, the good news doesn't stop there.
His disapproval in the same poll is at a 49 percent rating. While still higher than his approval, it is Trump's lowest disapproval rating since a month after he took over the Presidency in early 2017.
The reason for Trump's higher numbers "is due to the president's handling of the medical and financial crisis caused by the coronavirus pandemic," says Breitbart News' John Nolte.
"The media have become the perfect foil for Trump and that fact is obviously driving them crazy, which is why they are asking questions as stupid as, How many deaths are acceptable?"

https://t.co/3NxkgbtYRv via @BreitbartNews

— The Curve Is Bent. Time to Free Us! (@NolteNC) March 26, 2020
Nolte attributes Trump's increase in voters' favor to several factors including the early travel ban, the president's daily press briefings, and Trump's ability use out-of-the-box thinking such as deregulation and inclusion of the private sector.