Bill Gates has become a coronavirus celebrity in 2020, mostly on the strength of his early speeches warning about the possibility of a worldwide pandemic. Since then, he's been actively involved in the development of vaccines.
But Gates, whose liberal politics and globalist bent have earned the suspicion of conservatives, doesn't sound like an unbiased philanthropist when he talks about the current crisis. In fact, his comments have taken a political turn.
In a recent interview on CBS Evening News, Gates made the startling claim that the US is in worse shape than other countries when it comes to coronavirus mortality. In response to President Trump's claim that US mortality rates were better than other industrialized countries, Gates said: "By almost every measure, the U.S. is one of the worst. I think we can change that, but it's an ugly picture."
But is Gates the impartial fact-driven voice that he portrays himself to be? A quick fact check is in order.
Numbers from the popular Worldometer coronavirus counter today prove Gates wrong. In chart form: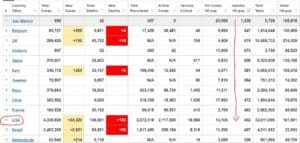 Far from being the worst, the US has a lower mortality rate than the UK, France, Spain, Italy, and Belgium, among others. Note that these European countries have won repeated praise from the left for their repressive lockdown policies.
Gates is playing fast and loose with the facts.
Watch the interview: